Exploring large scale drawing : developing your creative space
" Re-fresh, re-frame, re-set. When you feel distanced from your creativity and your centre this is an intuitive way to re-set mind, body and soul. Sarah dispels any fear of judgment of the 'I can't draw thing' to support you stretching out and beyond your boundaries to make marks, enjoy the materiality and re-connect with your creativity"  Workshop Attendee
Cost: £20.00 per morning session (all materials and refreshments included) 
Friday 10.30-1pm:    March 10th, 31st March, 12th May
Saturday 11-1.30pm:   March 11th, 1st April, (13th May is a long drawing day – see link below)
Venue: General Office Gallery and Studios
https://www.eventbrite.co.uk/e/large-scale-drawing-developing-creative-practice-tickets-458608730057
warm up drawing activities – short timed blind and bilateral drawing
collaborative drawing activity
a focus on touch and material engagement
gradually expand the scale of what you are making – explore your process
find a place of potential relaxion, stimulation, reflection
a one off workshop or the opportunity to return – each date has a slightly different focus  and is a vital way to keep enriching your practice of engaging your creative space through large scale drawing.
"I benefited from the variety of warm up activities- group and individual, these enabled me to reawaken my creative process. Working in large scale – with such width and height of paper and the different art medium and tools  was for me – decadent and a privilege. The expanse of space and time to work across the day provided – freedom, reflection and challenge. Thanks again for your thoughtful and proactive facilitation. It was a great to interact with you andthe other likeminded creative people in the group."  Day workshop attendee
DAY WORKSHOP: 
IMMERSIVE LARGE SCALE DRAWING PRACTICES
Saturday 13th May 10.30 – 4.30pm
Cost:  £65.00 with all materials included  
VENUE:  General Office Gallery and Studios
Designed for those who have attended a morning workshop (but not exclusively) and wish to take the opportunity to deepen and expand an experience of this material and sense approach to abstract drawing.  For more information follow the link below.
https://www.eventbrite.co.uk/e/a-day-of-drawing-immersive-large-scale-drawing-practices-tickets-568357952937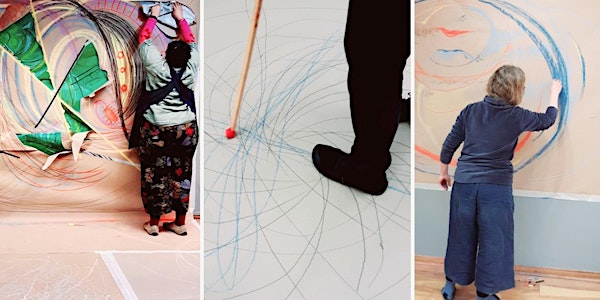 First Floor*, 12 Hagley Road, Stourbridge DY8 1PS
*This venue has stair access to the project and gallery space – unfortunately there is no wheelchair access at present.